Artist: Cage the Elephant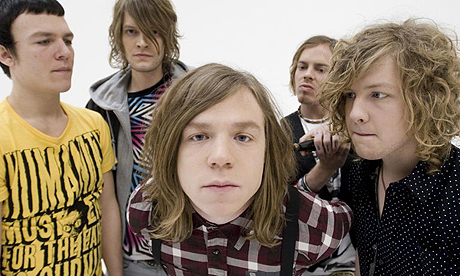 Album: Thank you, Happy Birthday
Another band to join the already crowded list of 'alternative' rock bands in my music library, Cage the Elephant is an American alternative band from Kentucky. Their sound is reminiscent (at least to me) of Arctic Monkeys, and their high energy live performances have gained them a large fan following since their inception in 2006. In a bit of a twist, they seem to be more popular in the UK than they are in North America, perhaps due to the influence of UK bands such as Oasis and Arctic Monkeys.
The lead singer Matthew Schultz has a very unique voice, a mix of Eddie Veder, Alex Turner and Ozzy Osbourne. His voice is complimented by some fairly deep lyrics. 'Shake me down' is about remaining positive regardless of one's personal situation as well as a treatise on loneliness and alienation. In the music video for the track, a dying man relives his final memories and despite the hardships he endured, he still remains positive about a life well lived.
Their debut album contained such gems as 'Ain't no rest for the wicked' which was followed by their second album which was even better than the first. You can't go wrong with songs like 'Shake me down', 'In one ear' and 'Tiny little robots'. They've been gaining critical acclaim and have slowly begun to get more mainstream success. They'll be one to watch for the future no doubt.
In my life, I have seen,
People walk into the sea,
Just to find memories,
Plagued by constant misery,
Their eyes cast down,
Fixed upon the ground,
Their eyes cast down